𝕳𝖊𝖑𝖑𝖔 𝖒𝖆𝖗𝖈𝖎𝖆𝖓𝖝𝖘, 𝖘𝖑𝖚𝖙𝖘, 𝖛𝖊𝖓𝖚𝖘𝖎𝖆𝖓𝖘 𝖆𝖑𝖑 𝖐𝖎𝖓𝖉𝖘,
𝖌𝖗𝖊𝖊𝖙𝖎𝖓𝖌𝖘 𝖋𝖗𝖔𝖒 𝖙𝖍𝖊 𝖔𝖙𝖍𝖊𝖗 𝖘𝖎𝖉𝖊 𝖔𝖋 𝖙𝖍𝖎𝖘 𝖘𝖈𝖗𝖊𝖊𝖓
𝕳𝖊𝖑𝖑𝖔 𝖒𝖆𝖗𝖈𝖎𝖆𝖓𝖝𝖘, 𝖘𝖑𝖚𝖙𝖘, 𝖛𝖊𝖓𝖚𝖘𝖎𝖆𝖓𝖘 𝖆𝖑𝖑 𝖐𝖎𝖓𝖉𝖘, 𝖌𝖗𝖊𝖊𝖙𝖎𝖓𝖌𝖘 𝖋𝖗𝖔𝖒 𝖙𝖍𝖊 𝖔𝖙𝖍𝖊𝖗 𝖘𝖎𝖉𝖊 𝖔𝖋 𝖙𝖍𝖎𝖘 𝖘𝖈𝖗𝖊𝖊𝖓
this is a sonic number of exchanges & experiments
ASMR d@ting formats
became an experience of its own.
usually between two people and a third one
smoke and candy
vibrating devices it became a journey,
that felt almost like a caring-crunchy biscuit that you wanna have it in your pocket for the special moments or you wanna lick it
now
being moved and moving ..on and off...resting. generating possible universes together and expanding senses through the screens. The exchange could be anything from a very visceral date to an awkward online meeting with wtf moments or something else.
It depends on us. en dat is alles.
poetic and gross
yours truly,
slut.
you and me is a streaming one on one experience. It is an exchange of me, Helena Araújo and the guest on the other side.We navigate through the different states of what an online first meeting brings. I, Helena Araújo, as a host make sure that we both feel safe and trust the process. Then, the journey goes on with me giving you choices and you choosing your path. It is almost like an interactive game without a winner. Being moved and moving on. Resting. We go generating possible universes together and expanding our senses through the screens. It could be a very visceral d@te to an awkward online meeting with wtf moments or something else. It depends on us, you and me.
​
This project was supported by Commune de Etterbeek (BE) and created with the technical support of Marnix von Edge (BE)
Let`s get together to melt that sugar, warm our soft bellies with stories, some flirting eye contact, grow our ears for the details, scream a little....and most of all... spill that Tea!
Wait for that smoke machine effect and we are ready for the trip! Welcome!
A large, up to 8 meter inflatable ball filled the space of PARK in Tilburg and formed a live reality television set, decor and discussion background, and a stand-in for the 'world' . As part of the What is this World? exhibition project Bik Van der Pol invited the dance and performance artist Helena Araújo, together with sound designer Marnix von Edge to throw a tea party.
People were invited to a cosy and surreal night of exchanging stories, thoughts and feelings about the world we are living in and imagining together what other possible worlds we could construct or even shift to. We gently engaged with the act of listening and tried to melt our voices into the world while having some warm tea and food.
​
Tea with the world was supported by DansBrabant, PARK and Bik Van der Pol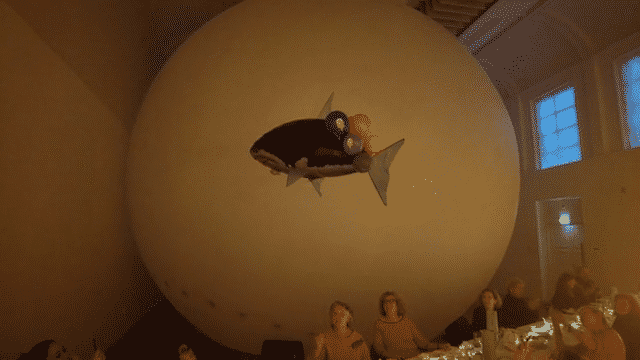 this world is so fucked up, lets get a ship or a shark and eat all the trash. lets go to theraphy baby.
photos by William van der Voort